(ST. JOSEPH, Mo.) KinderClub is back in person. United Way and the St. Joseph School District are partnering up to bring back the kindergarten prep summer sessions.
"It's a series of lessons that you go through together," said Kylee Strough at United Way. "And it focuses on the things the child needs to know when they enter kindergarten to be successful and gives a lot of tips and tricks and tools to take home so that you can continue to foster that learning over the next couple of months before school gets started."
Three sessions are offered on Saturday June 25, July 9 and July 23 from 11 a.m. to noon at the Early Learning Childhood Center.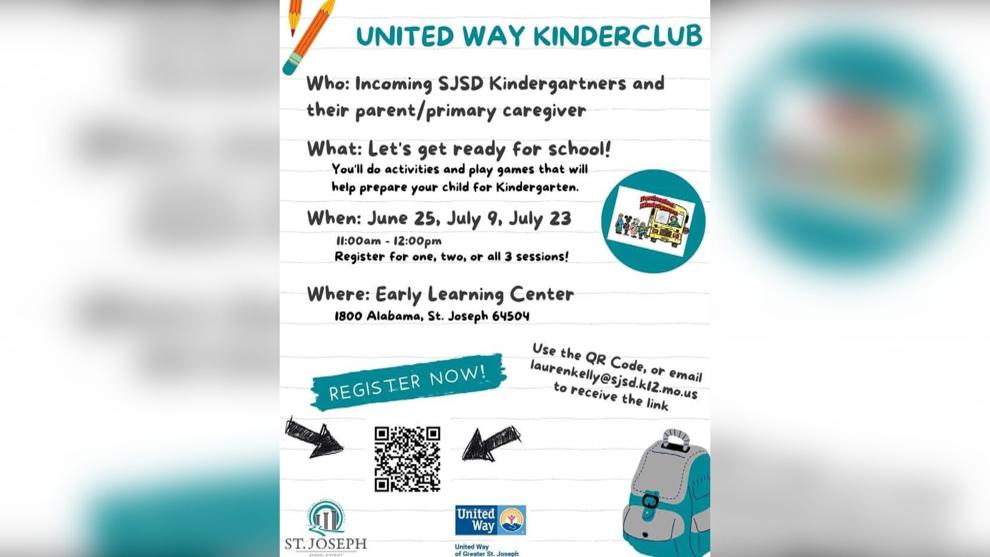 Parent Educators within the district will teach caregivers and their future kindergartens classroom skills and techniques that they can take home and continue teaching.
"Their child is going to have an opportunity to identify their own name in on a table, they're going to pick their name out of everybody else's name. And so hopefully, that'll help with the letter recognition.," said Lauren Kelly who is one of the Parent Educators. "And we will talk about early literacy concepts together."
The sessions are not all about the kids, it will enrich parent's skills as well.
"And then also we'll talk about how, you know, parents can help prepare themselves for that. And that separation on the first day comes," explained Kelly. "Good stuff happens at home right? We're are facilitating that interaction with the parent and the child. But yeah, in order for the child to really make the most of their learning, the caregiver plays a way bigger part in that than we ever will."
Each child will go home with a goody bag.
Caregivers must attend with their future kindergartner. 
All sessions are free. Parents are encouraged to sign up for all three dates.
Contact laurenkelly@sjsd.k12.mo.us to register.
United Way is looking for additional volunteers to assist the sessions.