(ST. JOSEPH, Mo.) The St. Joseph School District has struggled with student attendance since the covid-19 pandemic hit in 2020.
District officials said attendance dropped to as low as 70%, kindergarten and 7th and 8th grade levels the smallest attended classes during the the covid-19 timeframe. Before the pandemic hit, attendance was 90% in 2019.
To increase attendance, the district began the "let's make a comeback" campaign. This year's goal is a 85% attendance rate district-wide.
Provided are links to the St. Joseph School District's "Let's Make a Comeback" campaign. 
"We'd like to see is everyone at 90%, and that is even still chronically absent," said Kendra Lau, the district's Director of of School Improvement. "So 85%, it was hard to set a goal, because we've never come into a situation like this, but that is our goal, is 85%."
Lau says the district has an 80% attendance rate through September 30, 2022.
"That is gonna make it a steeper climb," Lau said. "But I will tell you last spring, we saw a 5% improvement. So it can be done."
Here is a look at updated attendance by grade as of 9/30/2022 according the school district. Each level is determined on average by a MSIP prop weight.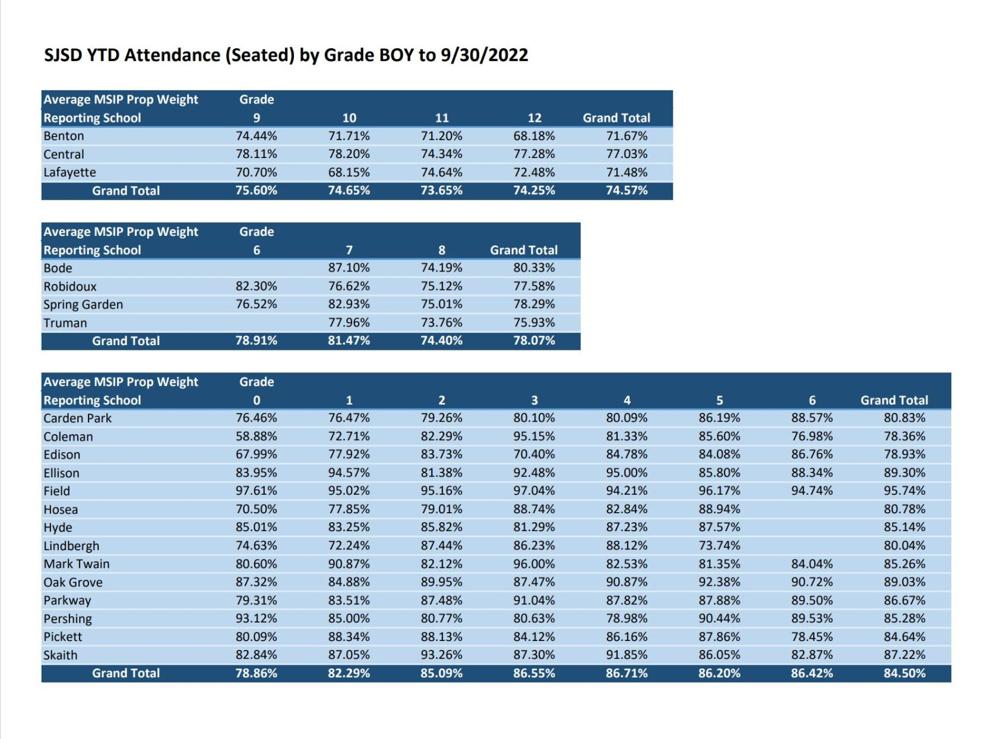 "During the pandemic, we were as low as 70%, and in some instances, our kindergarteners were coming 50% of the time," Lau explained. "So overall average last year, our kids were missing about three (days) a week, a month. For every week a ninth grader misses of school, it reduces their chance of graduating by 25%."
Skaith Elementary is currently one of the highest attended schools in district at 87.22%. Skaith's principal Dr. Jennifer Patterson said in September, the entire school reached over 90%.
"People are excited to be back in school in person, and back to some sense of normal and a routine," Patterson explained. "But most important, I just think that we need schools to be a safe and focused place to learn. And at Skaith, we've really focused on student behavior and making sure that our classrooms are a warm, inviting place focused for kids to learn, and that our lines of communication are open with parents at all times."
Skaith Elementary is one of a handful of schools that has an attendance interventionist, a new position to the district to boost morale and increase attendance. There are eight attendance interventionists district wide, and SJSD is in search for more.
"They really are the hub of deploying the buildings attendance plans, and in addition, calling home to families, going on home visits, but with a positive outlook, not being negative; that does not work," Lau added.
At Skaith, Patterson said the school has incentives and rewards for grade levels that the kids are enjoying and she can see it boost attendance throughout the year.
"We launched something called PBIS, which is a structure for classroom rules and expectations," said Patterson. "And that accompanies with desert dollars and rewards and incentives for the in-school store, things like that. The kids have really responded really well to those incentives."
Patterson also explained, "I think it's important that we have a balance between intervention and incentives. Again, since it's not necessarily always in a child's frame of control, whether they're at school on time. So it's great to incentivize and give rewards for attendance, but also hard for students who didn't get to make the choice to be at school to miss out on an incentive. So I think intervention is key."
The district said increasing attendance is not just a district issue, it takes the entire community to make a comeback.
"It's going to take our community, it's gonna take our agencies, it's going to take our municipalities, it's going to take everyone working together, whether it's the kids that are very truant to chronic absenteeism, and reducing barriers for families, whether it's transportation, housing, food scarcity, all of those different barriers that we, we acknowledge are making it difficult for some kids to get to school. Mobility in this district is a very big struggle. So if we have kids, going from school to school, and we lose them for a week at a time, every time they move. That contributes largely to their attendance. And so, you know, we as a school district are looking at ways that we can stabilize some of that. But it's also something that we need support from the community. It's not it's not just a school district issue," Lfau explained.